The word demo used to make me think of the Amherst Street Wegmans. But, no longer is demo about multigrain chips and organic black bean salsa presented with a coupon by a friendly employee. Demo in my world is now for D.E.M.O.L.I.T.I.O.N. And, selective interior demo is now underway at The Phoenix. To recap – the Phoenix is Sinatra and Company Real Estate's signature project sitting adjacent to the Buffalo Niagara Medical Campus. Purchased about a year ago, the project has been in pre-planning and preconstruction … until now. And now – it's loud, it's dirty and it's exciting.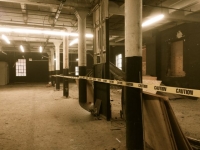 For an office dweller, with limited construction experience, i.e., the writer of this blog, visiting a project going through the demo process is pretty thought-provoking. Note – if you ever plan on visiting one of these sites – there is a required uniform – including hard hats, safety glasses, to name a few.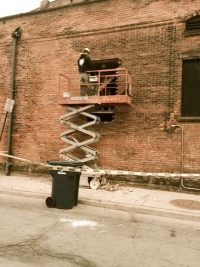 Inside, activity abounds. Giant chutes (that look like the most amazing slide ever) bring debris from top floors to haul away bins below. Jack hammers power out concrete, while members of the crew buzz by with wheelbarrows filled with bricks. Simultaneously, a team works to widen openings for windows. If I had to compare it to anything, I would say it reminded me of an ant colony. Teams of people working at a dizzying pace, but for a very specific, intended purpose. They did take a moment to pause and wonder what the bewildered looking woman donning a pink hardhat and heels was up to. Here's where superintendent Tim Spitler stepped in and took a moment to walk me through the site. He explained that demo is going well, and is expected to continue into next month. The work is planned top down, starting from the higher up floors and working towards lower floors.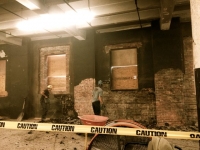 Through their work, the team continues to identify and preserve features that may be repurposed within the site for either decorative or practical uses. The doors here are vintage fire doors, that with a little polish can ultimately be reused in the building – no longer to code as fire doors—but will be used as a design element.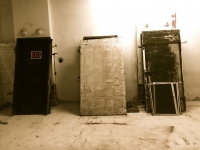 For those of you who can't get enough of the demolition process, take a drive over to Gates Circle, TM Montante's project, and take a look at what's happening. There you'll see a full demolition underway, which I'm told may include an implosion. Just don't forget your hard hats and safety glasses.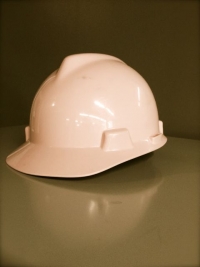 #Phoenix Rising