With all the fantastic Buffalo festivals, local food trucks, concerts and simply the lure of a frosty brew in a backyard on a summer night, selling a walk through an old building turned dusty construction site on the edge of the Buffalo Niagara Medical Campus might have been a challenge. But the good folks over at Preservation Buffalo Niagara had a number of takers who were interested in seeing what was happening at the the Phoenix Brewery building. I was exceptionally delighted to get away from my desk on a beautiful Western New York evening, dust or not! For those of you who haven't visited the corner of Washington and Virginia lately … the view is stunning. No where else is the juxtaposition between the old Buffalo, and the new, more transparent. The shining edifice of the
Hauptman-Woodward Institute
, and the imposing facade of the Phoenix Brewery compliment each other in a way no master-designing could ever accomplish. After organizing our group, arranged by Preservation Buffalo Niagara, and donning our hard hats, we gathered with
Matt Connors
, Vice President of Development at the buildings exterior. Matt took the time to create the vision of what was once Brewing Hill, where kegs traveled by horse drawn carraige, and every corner had a a neighborhood bar. Obviously, not everything has changed in Buffalo.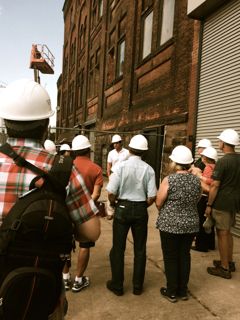 Speaking of hard hats, the entire team at Sinatra and Company Real Estate would like to tip its hard hats to both Preservation Buffalo Niagara, for continuing to raise awareness of the storied history right here in our own backyard, as well as to the public that increasingly is taking the time to listen to the importance of preserving our great history. As we traveled into the interior, to what will become indoor parking for residents, the cool, damp interior is an inviting respite to the hot summer day, just as it has been since 1888.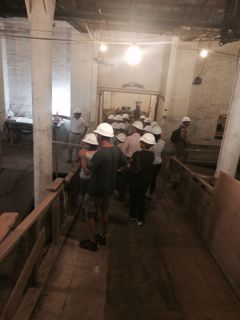 As we ascended the steps, we visited the upper floors that will continue to transform into three additional levels, designated primarily for 31 luxury, residential apartment units, but also small commercial space, including the existing salon tenant. All upper floor demo work is complete. The ceilings were sanded, and the concrete floors have been poured and polished. The interior design will be warm and modern, employing industrial finishes, yet retaining warmth through exposed bricks and doors.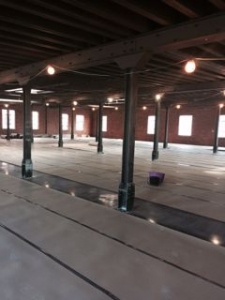 Having the ability to showcase The Phoenix was truly our pleasure. We are grateful for the encouragement of the community in projects such as The Phoenix, as well as The Fenton, and Wayne & Waldorf. Stay in touch with
Preservation Buffalo Niagar
a about future hard hat tours of Sinatra and Company Real Estate projects, as well as other great area developer work.