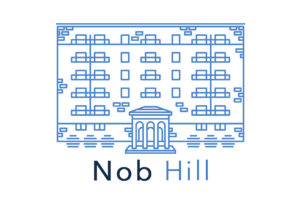 Sinatra & Co is proud to introduce you to Nob Hill Apartments in Syracuse, NY. Deep in this regional hub of theatre, art, and museums, Nob Hill is close to all the things that keep you on your toes!
Ready to explore Nob Hill with us? Let's go!

Q: What are the major locations / attractions near Nob Hill Apartments?
A: Syracuse, NY is a bustling and diverse city, home to:
The Great New York State Fair
Clarks Reservation
Destiny USA Mall
Rosemond Gifford Zoo
The Carrier Dome at Syracuse University
Syracuse University
Milton J. Rubenstein Museum of Science and Technology
Everson Museum of Art
Erie Canal Museum
Landmark Theatre
Beaver Lake Nature Center

Q: What size apartment homes does Nob Hill offer?
A: You're in luck if you're searching for the perfect 1, 2, and 3 bedroom apartment home! Check out their floorplans below:
Style B: 1 bedroom, 1 bathroom, 640-660 square feet
J Floor Plan, Style C, Style I: 2 bedroom, 1.5 bathroom, 815-1096 square feet
Style E/F, Style D, A Floor Plan: 2 bedroom, 1.5 – 2 bathroom, 876-1388 square feet
Style H: 3 bedroom, 2 bathroom, 924-1214 square feet

Q: Nob Hill seems like a dream so far – what amenities does the property offer?
A: Nob Hill has many amenities to make your home even better! Check them out below:
Fitness Center
On-Site Maintenance
Business Center
Resort-style Pool
Key Fob Property Access
Recreation Room
Bike Storage
Picnic Area
Elevators
Laundry Facilities
Playground
Clubhouse
Garages

Q: What do Nob Hill residents rave about?
A: We love to get feedback from our residents! Here's what they love about making a home at Nob Hill:
Maintenance Team
Residents can't say enough about the maintenance team at Nob Hill! Their professionalism and knowledge makes residents feel heard and the team makes sure any issue is address correctly and quickly!
Resident Events
The team at Nob Hill knows how to create resident events that are helpful, colorful, and of course, a blast! Whether it be a March Madness themed open house or a gift-wrapping station during the holidays, you'll always find resident events that you'll enjoy!
Online Payment Systems
Residents love the convenience of paying their rent online, or using the Flex system, which allows you to split your rent in half!
Team Members
We always love to brag on our team members, but the residents do that for us! You'll find that the team at Nob Hill has consistent good vibes – they are communicative, kind, and have vast knowledge of the property and of the neighborhood!

Q: What makes Nob Hill Apartments stand out?
A: Nob Hill Apartments is a large property that feels like a small, tight-knit community. With team members committed to making your experience the best possible, you'll experience awesome resident events, convenient payment options, and on-site maintenance to address every concern!

Interested in meeting us at Nob Hill Apartments? Give us a call at 315-469- 5036 or visit us at www.nobhillsyracuse.com and our Sinatra & Co team will set you up on a tour, answer your questions, and make sure you leave knowing where your next home will be!