If you're moving to Buffalo for the first time, you're likely asking yourself this: which neighborhood should I move to? Buffalo is home to many vibrant communities, but it may be hard to find the right one. After all, you not only have to consider your commute, but also the available amenities, entertainment, cultural institutions, and more. Here we've provided a list of the major Buffalo neighborhoods, both in the city and outside it, to help you find the perfect place to live:
The City of Buffalo
Stretching from the southern borders of Kenmore and Amherst all the way down to Lackawanna, Buffalo is full of historic neighborhoods and cultural communities.
North Buffalo
The neighborhood of North Buffalo encompasses the area in between Elmwood Ave and Main Street, just north of Delaware Park. With an urban and suburban mix, it's a perfect compromise for people who want to live in the city but want the conveniences that a suburb provides. The heart of North Buffalo is Hertel Avenue, a richly historic area with many local shops, restaurants, and businesses.
University Heights
University Heights is the area immediately alongside the University at Buffalo's South Campus. It's a good place for students who want a short commute to campus while staying in close vicinity to the attractions in North Buffalo.
Parkside
In between North Buffalo and Delaware Park is Parkside. This beautiful area of Buffalo is situated right by Delaware Park. It is home to the Darwin Martin House and the Buffalo Zoo, as well as many cafes and restaurants. As a part of Frederick Law Olmsted's park system, Parkside is the perfect area for a relaxing, late afternoon stroll.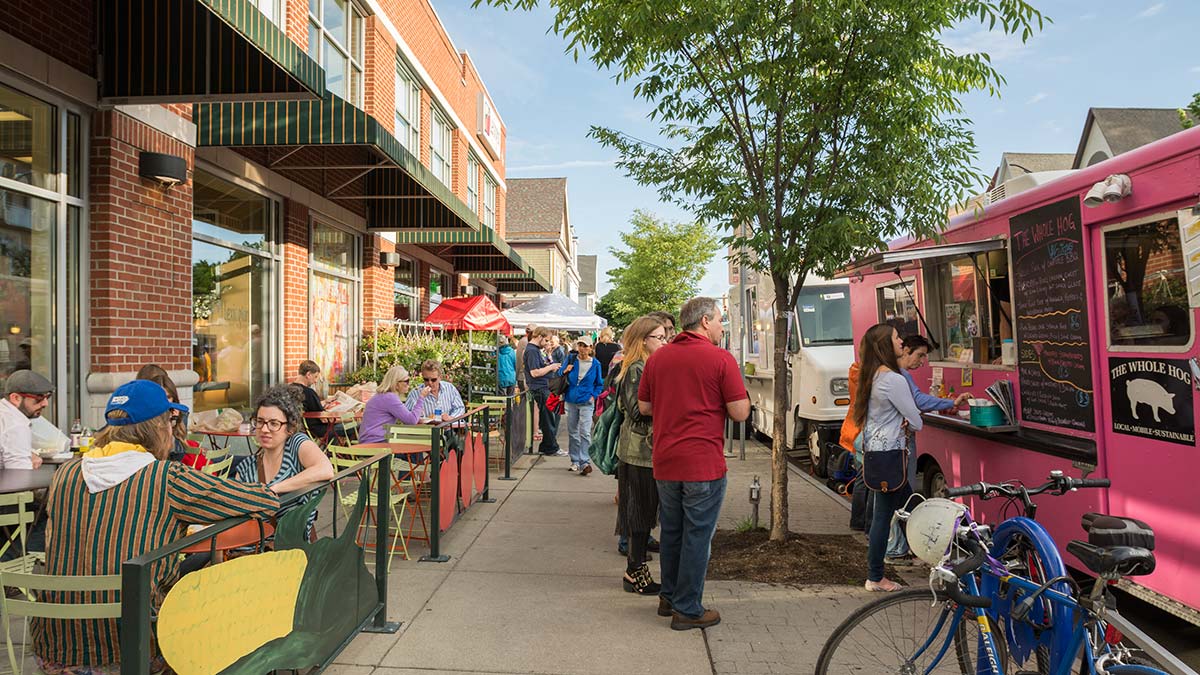 Elmwood Village
South of Delaware Park, following along Elmwood Avenue is the Elmwood Village. This cultural hub is full of cafes, farmers' markets, bookstores, artists, musicians, bars, and restaurants. The American Planning Association named the Elmwood Village one of the country's 10 best neighborhoods, and when you take a walk around the area, you'll see why.
Fenton Village >>
Elmwood Ave.
Hodge Ave.
1116 Elmwood
496 Elmwood
1526 Main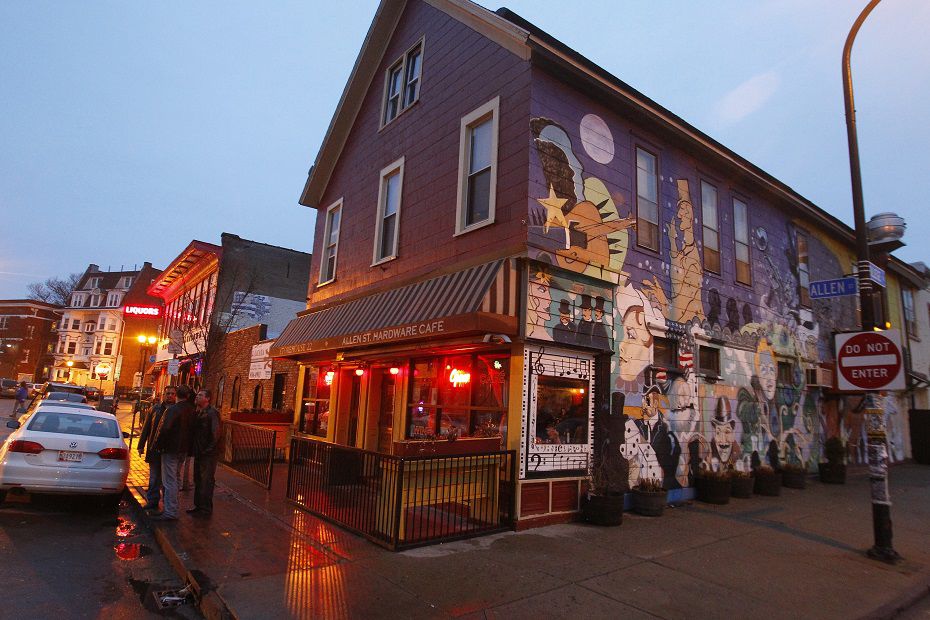 Allentown
For a bohemian, artistic feel, Allentown is the way to go. South of North Street around Elmwood and Delaware Avenue, this area of Buffalo is full of artists, musicians, and other creative types. With wall-sized murals and plenty of shops and galleries, you will truly be able to let out your creative spirit.
Larkinville
Larkinville is an up and coming neighborhood in Buffalo. Once filled with empty warehouses and buildings, this area along Seneca Street has been completely revitalized. It now features weekly concerts and many pubs and taverns.
Downtown Buffalo
The heart of the city of Buffalo, Downtown is home to Canalside, KeyBank Center, City Hall, and other major businesses and waterfront sites. Many Buffalonians work Downtown, and those that don't often come to enjoy the beautiful waterfront and many bars and restaurants.
South Buffalo
Past Downtown Buffalo, just before you cross into Lackawanna, is South Buffalo. It is one of the oldest Irish communities in the area, featuring plenty of bars and pubs, as well as the Irish Center. South Buffalo is also one of the most affordable areas in the city.
The Northtowns
When you talk about the Buffalo suburbs, people will often refer to them as either the Northtowns or the Southtowns. The Northtowns are all of the suburbs north of Buffalo, including the following:
Amherst
Summerset Townhomes
32 Westfield
Kenmore
If you want the feeling of living in a city without actually living in a city, Kenmore should be your top choice. The Village of Kenmore is home to many of Buffalo's favorite shops and restaurants, and its tree-lined setting gives it a very park-like feel.
Clarence
East of Amherst lies Clarence. This historic town has a quaint and almost rural feel while also remaining close to many amenities along Main Street and in Amherst.
Tonawanda
The Town and City of Tonawanda lies north of Kenmore and south of Ellicott Creek. It sits right alongside the Niagara River and offers many walking paths and parks to enjoy.
Englewood Ave
Highland Apts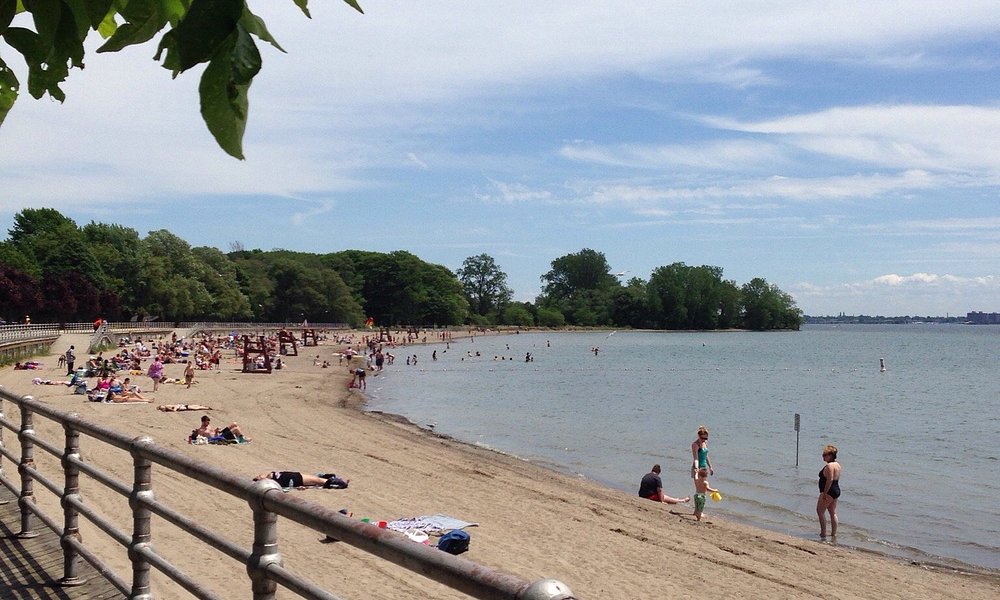 Grand Island
If you want the feeling of living on an island, then Grand Island can offer just that. Situated on the Niagara River, it is a beautiful area with many wonderful, natural sights.
The Southtowns
If you want the feeling of living on an island, then Grand Island can offer just that. Situated on the Niagara River, it is a beautiful area with many wonderful, natural sights.
Orchard Park
Are you a die-hard football fan? Then living in Orchard Park may be for you. This is the Home of the Buffalo Bills with a huge tailgating scene every Sunday.
Hamburg
A charming and laid-back town, the Town of Hamburg has many appealing shops, boutiques, and restaurants in its Downtown Historic District.
Knoll Park
Knoll Park West
Knoll Park North